Make
your
Houses,
Their
Homes!
Find and Design New Homes Online
Our Cloud Rendering Engine instantly renders the same house in unlimited color schemes, across thousands of devices via your free company-branded web app.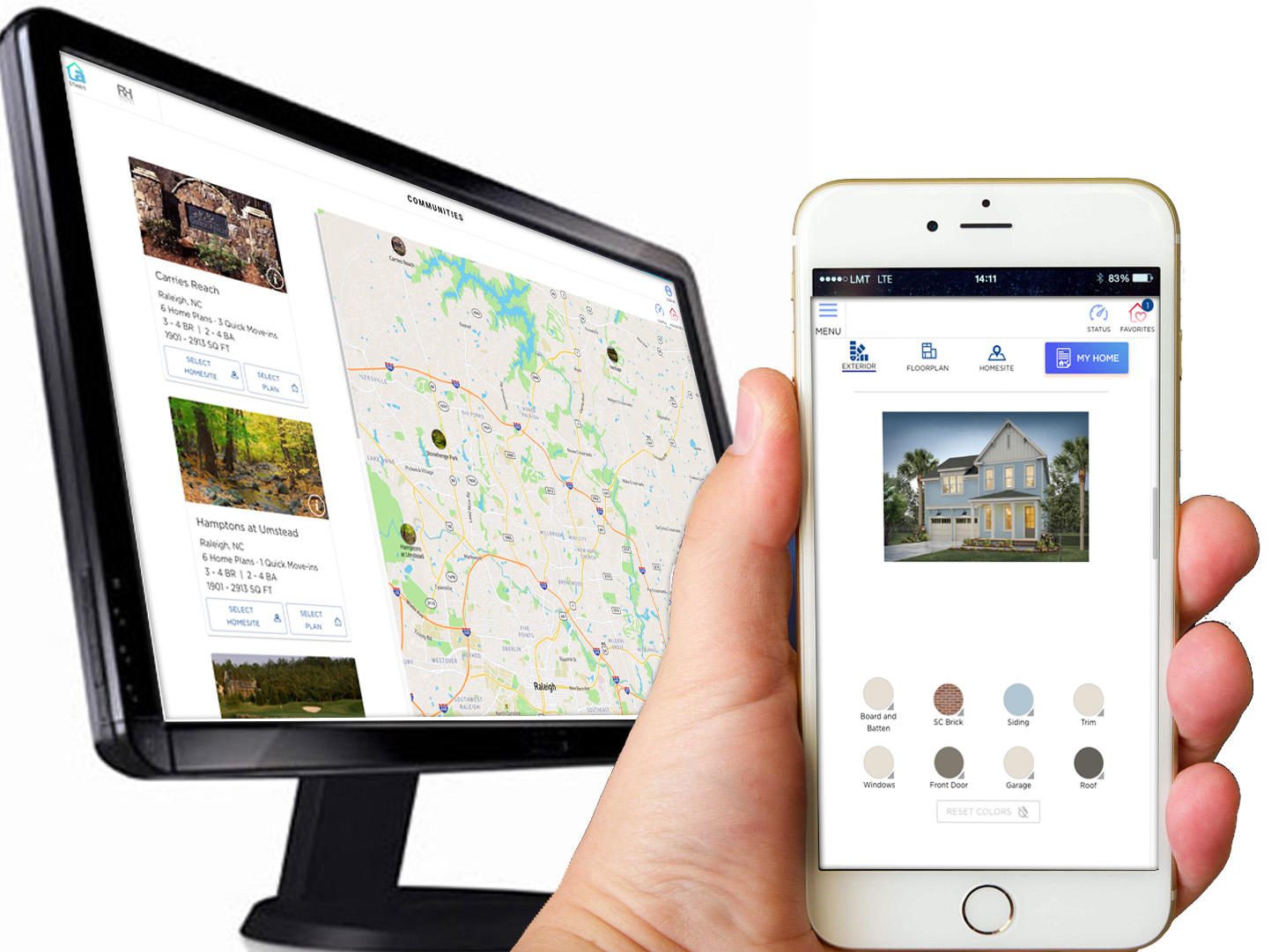 We've flipped New Home Marketing! Instead of Builders presenting the SAME generic house renderings to EVERY Buyer,  EACH Buyer now emails the Builder the UNIQUE homes that she has designed online!
Today's home buyers don't want to pick-up generic brochures. They want to design their new homes online – just like they do with new cars. Traditional presentation marketing just won't cut it. New Home Marketing must be Personalized. 
No more endless browsing of beige houses. Each Buyer can now design, visualize and even price her new home online. The My Home App even emails the Builder a personalized brochure showing the Buyer's custom-designed home with unique renderings and itemized selections.  It also auto-generates a unique web page for that Buyer (like their own Facebook page). Builders will ultimately market directly to each Buyer's web page with personalized content and promotions.
Our Apps easily integrate with Builder websites, touchscreen sales kiosks and email/social media campaigns. By creating both the content and software in-house, we ensure fast and affordable App creation.
Your company-branded App is FREE! Just buy your usual static renderings and we make them interactive for FREE! That's unlimited downloadable 3D color renderings for each Elevation!
We have created over 300 Apps for Builders. Once they convert to interactive apps, they don't go back to static renderings.
Just pay for your usual static renderings and we make them interactive for free!
Search Community Maps
As you move around the map,  available Communities auto-update the menu list accordingly. The list shows up-to-date statistics of each Community.  Hit "i" (information) button to learn about the Community or "Select" a "Homesite" or "Plan".
View Community Info
Quickly scroll through Community descriptions, photos, points of interests, site plans and standard features, starting with the most common interests items. Along the way, there are "Select Plan" and "Select Homesite" call-to-action buttons to drive shoppers to your Products.
Find Points of Interest
A live Google Map interface shows Points of Interests around the Community.  Simply check POIs like Schools and Parks to show their map locations. Click on the locations to get more information or link to POI website.  A free-form field enables searches for specific interests or address input. Concentric radar radii shows mileage distance from the Community.
View Standard Features
The Community's Standard Features appear in categories with bullet points of specific features.  Community-specific Features are drawn from a Standard Features library in the backend Dashboard and auto-formatted in the app. 
Choose Your Home Plan
Choose your Plan from a Plan Gallery.  Use filters and sorting to quickly find interested Plans. Click on the "i" (information) button to learn more about a Plan or Design a Floorplan or Select a Homesite. "Like" a Plan to quickly save it to your Favorites.
Select Your Homesite
Find and select your homesite from the Map or Menu List.  See up-to-date Lot Statuses on the interactive Site Plan. Filter by Lot Premium, Size and Status as well as Elevation, Color Scheme, Construction Stage and Days from Completion. Auto-zooms to Selected Lots and Creates Lot Inset Image. Shows available Elevations and Color Schemes by Homesite.
Siteplan Hot Spots
Simply drop markers or icons onto your interactive siteplans to add hotspots for shoppers to view information or a slideshow of images of amenity areas, homesites or even a Google Streetview-like tour of your community. You can even add NterNow inventory lots to show which homes buyers can tour on their own!
Tour Your Home
Experience your furnished home by taking a 360 virtual tour with your mouse or your fingers, or look around via your touch device or VR headset. You can also navigate via an interactive 3D floorplan.  There's also a mosaic photo gallery to explore your home.
Interior Design
Users are able to customize the inside of their new home by picking out cabinet colors, flooring, light fixtures, etc. Builders can define pre-set packages as well.
Design Exterior Colors
Starting from a blank slate, select from preset whole-house Color Schemes. Or completely custom color design the home by choosing from Palette of colors for each material. Or a take a Hybrid approach by starting from a Scheme and then adjusting from Palettes. Hit "Reset Colors" to start over.
Choose Floorplan Options
Instantly customize your floorplan options across multiple floors.  Features mutually-exclusive options, options-on-options, adaptable options and mirrored floorplans. Pricing and monthly payments auto-update if Pricing is activated.
Real-Time Calculator
If turned-on, prices and monthly payments are instantly updated as different Plans, Lots and Options are selected.  You can set your own mortgage terms.  The financing terms can also be adjusted when comparing Favorites. Similarly, Total Plan square footage auto-updates per floorplan option selections.
Track App Status
The "status" column and orange bar at the top of the page quickly shows what step you are in during the find and design process. 
Create My Brochure
After a Plan and Homesite have been designed and selected, clicking the green "Create My Brochure" button will create a unique My Home brochure and web page/url. This page is automatically added to your Favorites and can be downloaded as a PDF, emailed, shared on Facebook and Twitter, bookmarked and further edited.  You can return this page at anytime by bookmarking the url address.
Save & Compare Favorites
You can quickly save interested homes to your Favorites by clicking the "Heart" (Like) button on the gallery.  Any completed "My Home" brochure is automatically added to Favorites. Click on Favorites to quickly compare, delete and edit unlimited Favorites. By re-logging in, you can resume Favorites – starting where you left-off.
AI Refers Alternate Choices
Once you select an Elevation, the AI automatically notifies you of alternate elevations, any available Inventory Homes of that Plan and if it's available in other Communities.
Analytics
App shopping behavior is tracked and shows the most popular plans, options, lots, colors, etc..  View saved "My Home" brochures and pages and Favorites for registered users. Graphics like charts, tables and auto-generated renderings supplement data analytics.
ONLINE COLLABORATIVE DESIGN
Introducing Online Collaborative Design, the next step towards buying new homes online. This included feature enables traditionally offline Salespeople to meet Buyers online with suggested homes, homesites and home designs.
Sellers start by sending links to their custom-designed suggested homes for specific buyers. Buyers can then tailor the suggestions from there.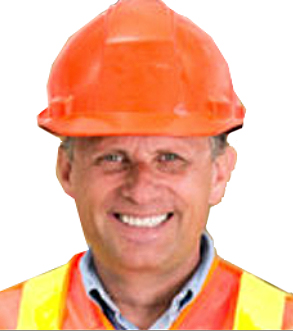 Builders Speak TEXTUALLY
Builders describe their products using architectural and real estate terms and jargon.

< < < IS YOUR DIGITAL TRANSLATOR > > >
Our real-time Rendering Engine translates Builders Speak to Buyers Speak - instantly converting text to digital to graphics - and back again, as Buyers design their homes online. Amazingly, everyone is simultaneously speaking both their own and each other's languages!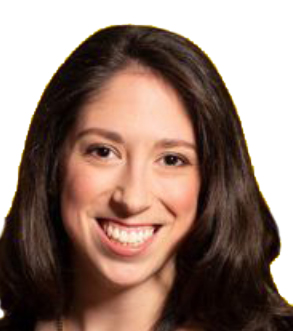 Buyers Speak VISUALLY
Buyers don't know how to describe what they want. But they know when they see it.
FREE APP!
Pay the usual costs for elevation, floor plan and site plan renderings and get your company-branded Interactive "My Home" Web App for FREE. Get unlimited downloadable color renderings for the same price as a single static rendering.
DASHBOARD (CMS)
Your App includes a secure cloud-based backend Dashboard so Builders can instantly update their App content online – without any programming skills.
REQUIRED REGISTRATION
Builders can require shoppers to register before gaining the ability to email or download their personalized designs and brochure. This is a great way to obtain valuable sales leads.
AUTO SOFTWARE UPGRADES
Your web app automatically incorporates the latest feature upgrades without downloading updates or additional costs.
SAVE, COMPARE AND SHARE!
Buyers can save, retrieve, compare and update their custom designs and inventory homes online. They can also share their designs on Facebook and start free viral marketing campaigns!
ADD INVENTORY HOMES FOR FREE!
You can load all of your inventory, under construction and model homes to your app for free. These homes display the actual floorplans, house lot, and photos.
RESPONSIVE DESIGN
Our HTML5 web app enables Buyers to use it across desktops and mobile devices.
IN-DEPTH ANALYTICS
Discover your most popular neighborhoods, plans, color schemes, options, house lots, square footages, and much more! Customer data is collected in anonymous aggregate and personalized detail – when they save Favorites.
INTEGRATES INTO YOUR WEBSITE
Your App can be fully-integrated into your website or appear as embedded or pop-up "i-Frames" or open into new tabs.
WEBSITES + WEB APPS = THE PERFECT COMBINATION
Like a Framed Picture, traditional Builder websites are the frame holding static content.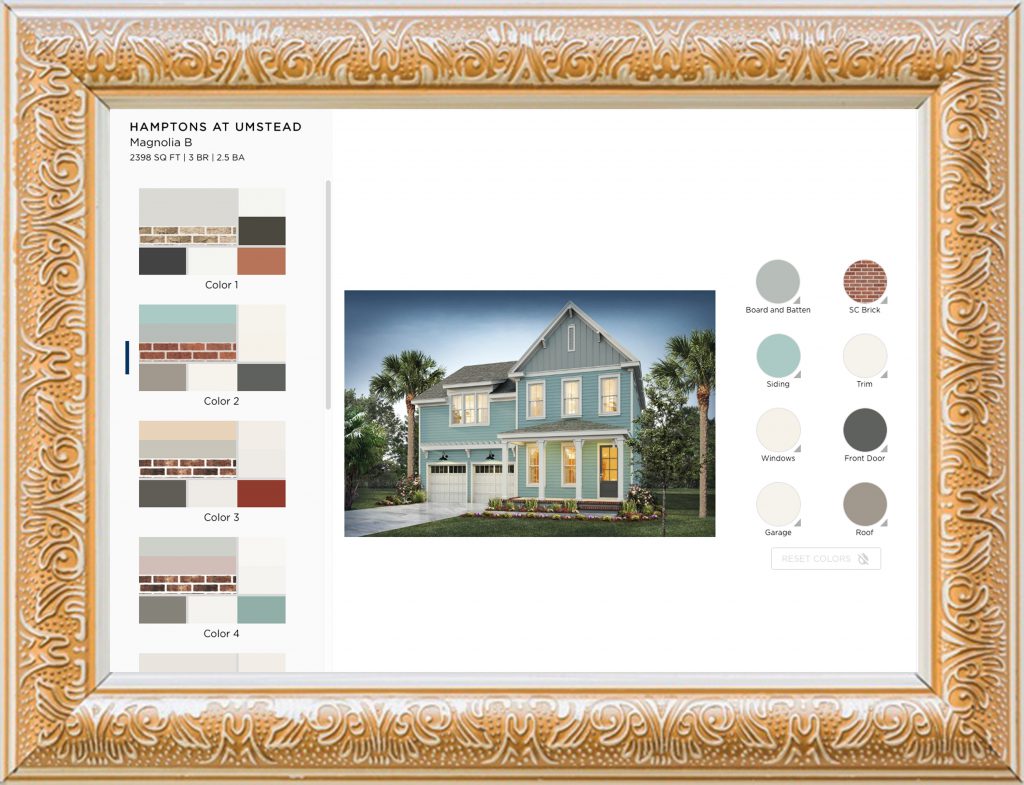 Presentation Marketing >>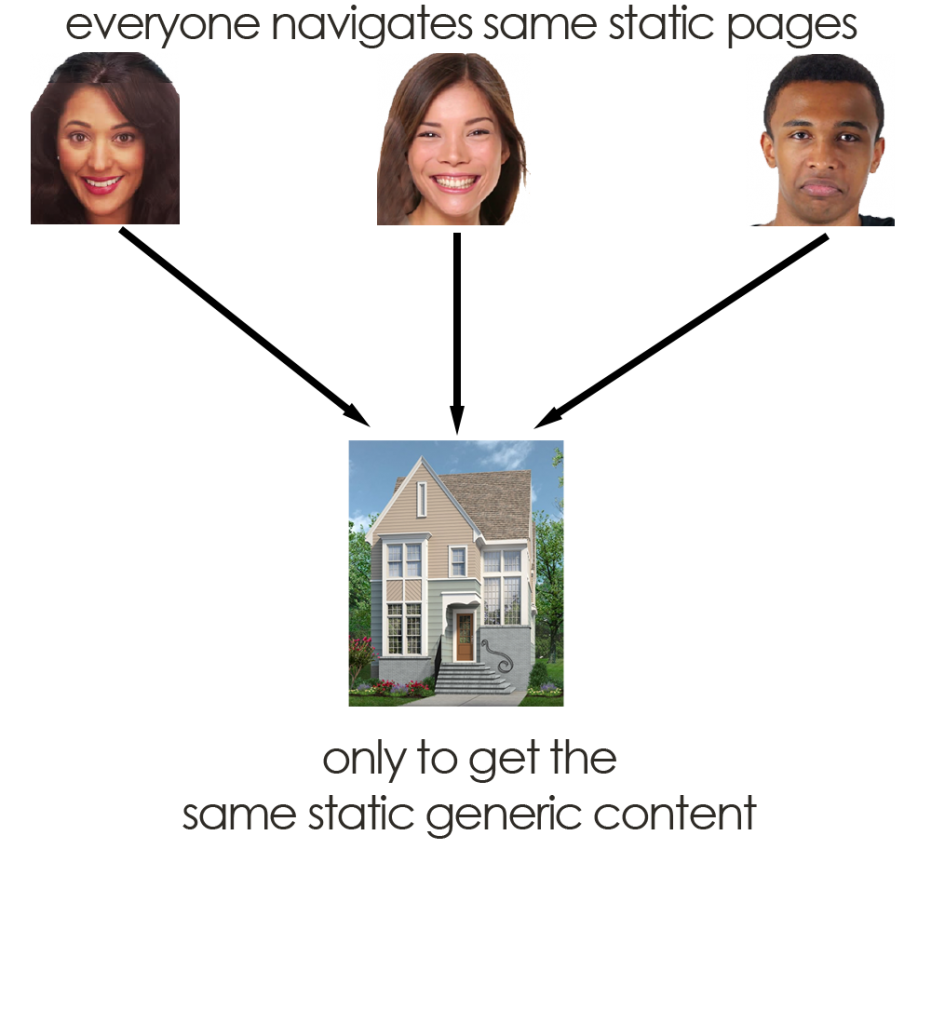 Websites, built on common "browser" technology, take a Presentation Marketing approach.  New content, pages and upgrades often require a costly website rebuild.
Web Apps replace boring static renderings with engaging interactive content.
Personalization Marketing >>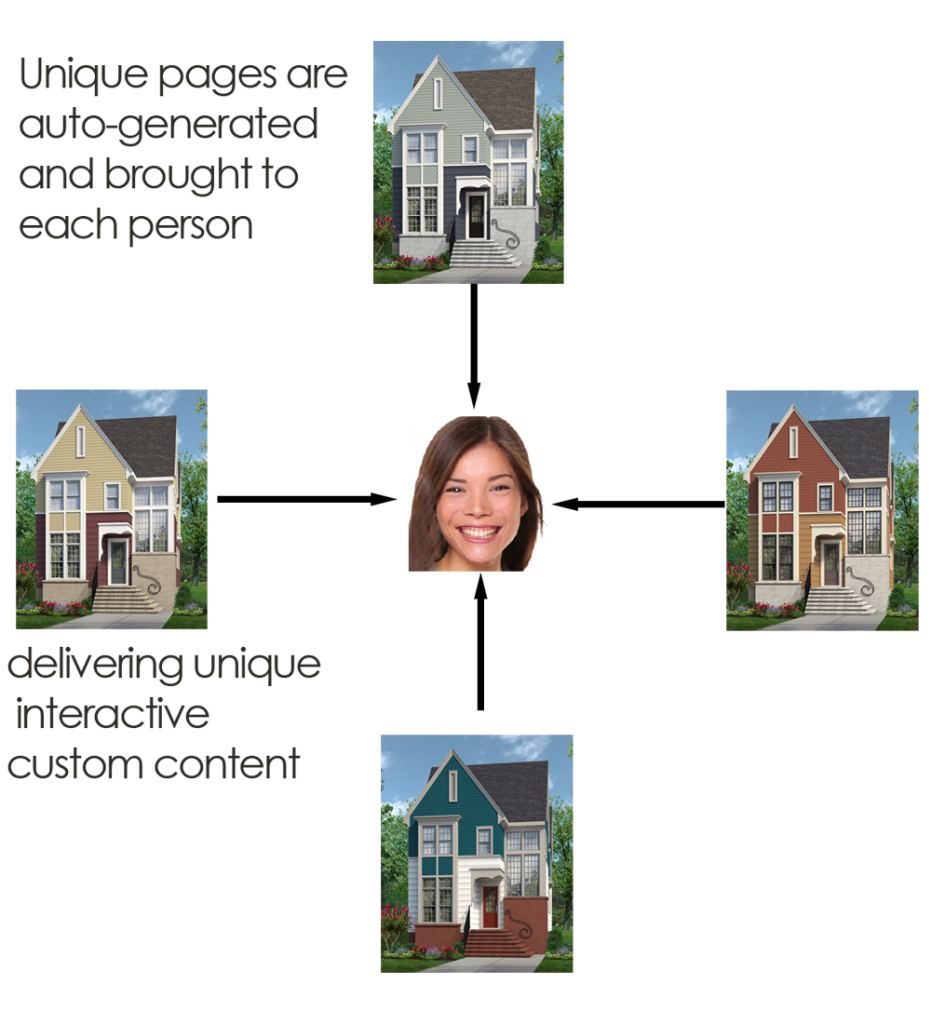 Web apps built on new "applications" technology take a more engaging Personalization Marketing approach.
Combined, like a Tablet, static websites frame the web app's interactive content.
Creates a Digital Sales Funnel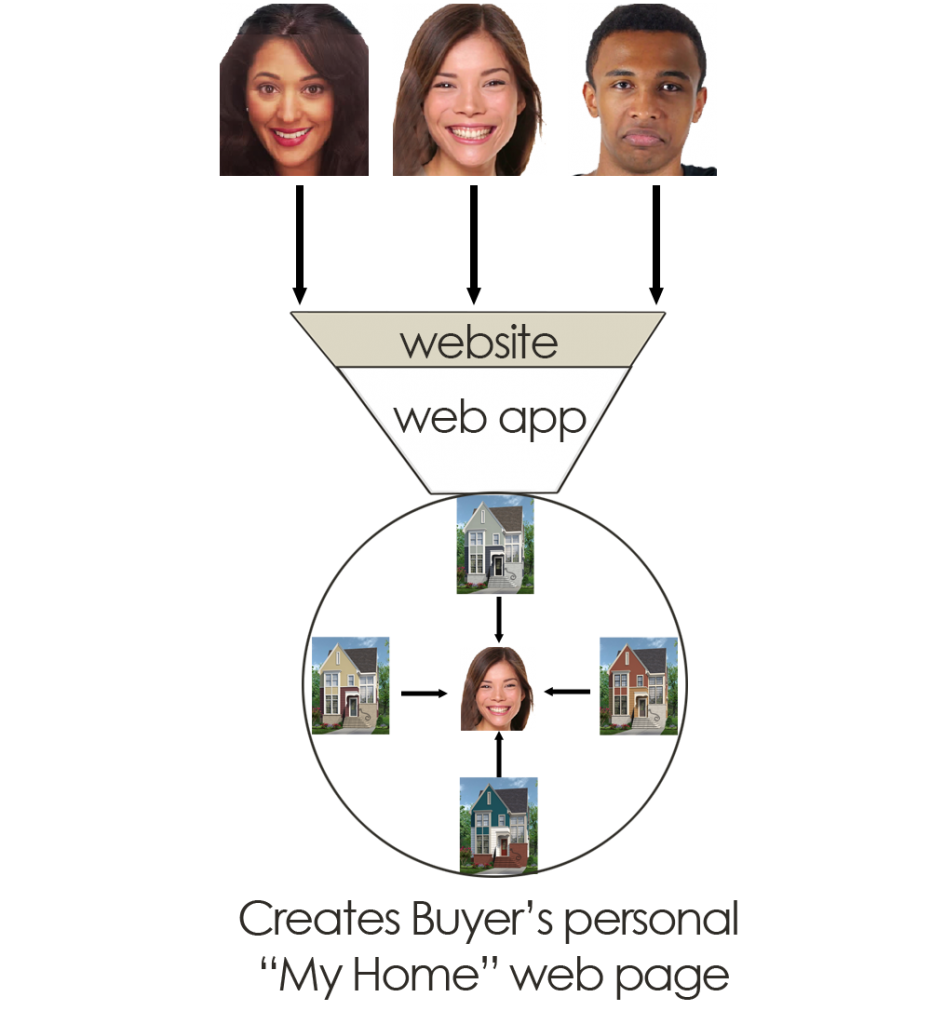 By nestling web apps into websites, Builders create a website Sales Funnel and digitally usher them down it by transitioning Buyers from Presentation to Personalization Marketing.